Curiosity
---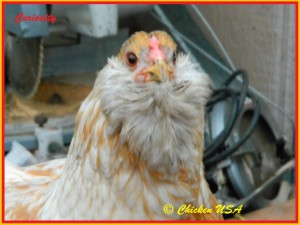 It is time to start introducing the new girls of the coop. I Ginger would like to introduce Curiosity, She is a PAIN IN MY…. Very sweet bird!
(MOM Get out of here… you said it was MY PAPER!!!!!!!!!)
I am getting used to her. She keeps trying to take all the food… Not really you just think she might so you chase her off!
(MOOOOOOOOOOOM STOPIT)
She is an ameraucana or also known as an Easter Egger. she will lay a colored egg. The color will range from a olive green to a bright beautiful blue. Mom is supper excited about her and her two sisters that are the same breed. We will talk about them tomorrow.
For now Mom says I have to share with you about her…. so here is goes.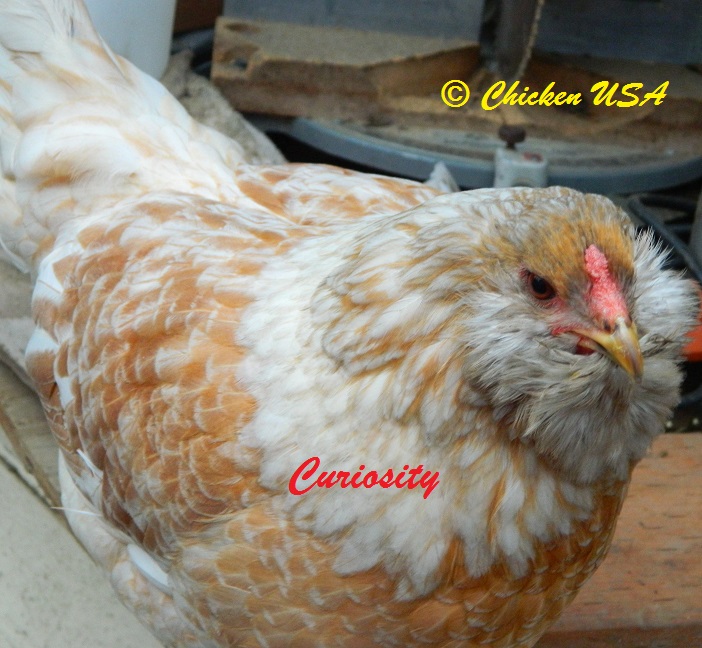 She took a liking to Dad right away and loves to have her beard rubbed. she is a silly girl that likes to get into EVERYTHING. Mom says "If I ever want to know what is going on in the yard All I have to do is look for her… She is always up to something and ready to run and find dad."
There is video of her doing fun things that mom will share latter…
Ginger "Are you enjoying your new home?"
Curiosity "I am. there is so many things to get into See here."
Ginger "Tell me your most favorite thing about our Humans"
Curiosity "I think my FAVORITE thing is when the dad comes out and sits with us. He seems to make the feed taste better by just being there with us. He keeps the Mean Girls   Older girls that have been here for a while from picking on me and my sisters while we try to eat."
Ginger "One last question, At night when we are all in the coop…. WHAT MAKES YOU THINK YOU GET MY SPOT   Are you enjoying the top roost right next to VLAD????"
Curiosity "Oh I am, He has been so welcoming to all of us new girls. He has taken the time to show us around and has kept us safe from all harm. I am thankful that he has been there for us during the transition."
Well there you have it from the Newest MOST FAVORITE Girl. She has been fun to get to know today. I hope you have enjoyed it as well.
Ginger Chicken Can be reached by leaving a note here at the
Chicken Nugget Gazette