The Paper
---
This paper is growing in interest …. and I LOVE that.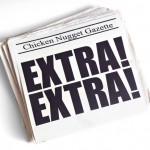 New girls have columns. they have submitted to Vlad as he is the Editor in Chief.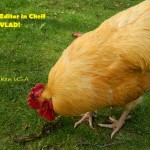 We have a new addition to the writing team….
Nubbs is our Local advise writer.
Please fellow chickens write in with any ?'s you may have. We have our first question in hand from Cesar Chicken.
Dear Adviser Nubbs,
I noticed that I am losing a lot of my feathers. Just when it started to bother me that it looked like a featherbed on the bottom of the coop floor I started to get Pin feathers again. so I figure I am in molt.Do you confirm this is a molt? Can you help me with ways to make this easier on me and our fellow coop mates?
Painfully growing new feathers,
Cesar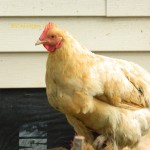 Dear Cesar,
Yes it seems as though at this time of year we are all starting to molt. some of us are farther into the process than others. Our sweet Momma and Pappa Human have been amping up the protein in our feed. Mrs. Chicken was going to make some protein muffins, An idea from the Chicken chick. Yet, Living in Alaska not all the things in the recipe are available here. She thinks outside the box and has a powder that she is adding to the feed. and is giving High Protein snacks. Not many, as snacking is not a good thing for us. it makes our saddle bags a little bigger. BUT I will say this………
DUST BATHS HELP!
his afternoon you should join me in the flowerbed we dug up all ready. it is AMAZING!
I did a lot of research to make sure that this feels good on our getting naked body.
so please join us latter today.
Adviser Nubbs writing for the Chicken Nugget Gazette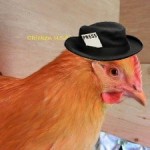 Ladies in Pink
The editor had a chat with the Human female child and they decided that the group name for the Black Australorps will be the Pink Ladies. Kind of catchy!
At last report those pink Ladies were flying the fence and we could hear the promise of scissors to our wings from Mrs. Chicken.
We are so Lucky that Chicken Pirate loves us so much. He went over to a local feed store (Cadre Feed) and had a chat with one of the ladies there about trying to keep us busy. Little did he know other than the protein muffins Mrs. Chicken was also looking for the ingredients to make a Flock Block. Knowing these are only a treat Mrs. Chicken was looking for a way to make them small. But Mr. Chicken he had other ideas….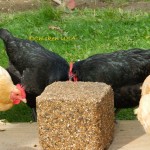 A HUGE BLOCK!!!!!!!!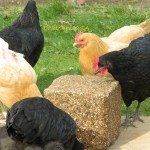 Cesar making sure the pink ladies were not flying over
The pink ladies are toning down how much the "Fly the Coop" now that they have something to keep them busy. BUT it is only a sometimes treat. so this has to be taken away after a small amount of time everyday.  Which means Ladies we have to step up keeping the girls entertained. I think that Mrs. Chicken was going to hang a cucumber today so we could try and keep them entertained that way.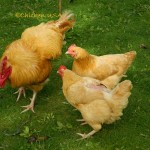 I see that Editor Vlad is chatting with each of us individually to make sure that we are helping the young ones stay out of trouble and be where they are supposed to be. so Please when he comes around Listen up and between us all we will keep those Pink Ladies where they need to be.

I really am not looking forward to the inevitable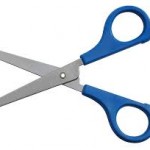 's
This has been Ginger Chicken reporting for the Chicken Nugget Gazette
New to this paper is,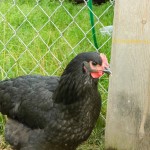 weekly Horoscopes by Muffin
So we are all Taurus and I have a friend I trust to give us our Horoscopes… But I am going to do something different with it. I am going to show you my view of it… as I see the coop.
There's a lot going on all around you right now, but through it all, if you tune into your inner guidance, you will remember that all is well.
So let this little Muffin break this down for you…. Yes there is a lot going on with the Pink Ladies, as they so kindly call us, trying to get to the other side. can they blame us. It is so GREEN OVER THERE!!! and we know that all is well over there. the humans bring us back every time we go over. so we are getting the best of BOTH worlds. Who could ask for more?
This is important, because even though you and everyone around you are going through so much, it is only your own centeredness that truly matters. There has never been a more important time to trust, trust, TRUST in your own capacity to be strong.
Lets talk about everyone else and what they are going through…. they are MOLTING for goodness sake. they are cranky and not much fun over. so we need to look inward… Inward Pink ladies and we will find that we can trust ourselves to be strong in the world of feathers everywhere….
Tap into your strength and extraordinary reliability, because this time you are there for your Self. The Pisces Full Moon conveys Chironic energies designed to help you master all those little issues that have bubbled up and are floating on the surface all around you. Pay attention to what shows up, focus on you.
So it seems that if we all focus on ourselves and work on all the little issues. like the molting, jumping over the fence, keeping busy, and Vlad ,really he is a persistent roo, that all things will be well. so attention to all that shows up girls… and focus on our new feathers and having fun! 
Your efforts will deliver you to a new structure that can take you to the happiness you deserve.
You got it… have you seen the new coop???? This family LOVES LOVES LOVES us. they are willing to make sure that we are well taken care of. and we are for sure HAPPY!!! Cause we're Happy…. oh yeah we lay lots of eggs…. Cause we're happy we hug the old man, Cause we're happy we have a clean coop. OH YEAH WE ARE HAPPY!
***This guidance column was written by Stephanie Azaria for TheCosmicPath.com. It may be shared freely, but only when the author's name and website are included.
This has been interpreted by the one and only
Horoscope Muffin, Writing for the Chicken Nugget Gazette.